Discuss projects without heavy and uncomfortable headsets
In business, making fast and effective decisions is vital. Imaging plays an important role in many industries. Visualization helps convey a story to your customers and to decision makers. Nothing comes closer to the real world than holographics. No other technology – not even AR or VR – is able to bring this level of visualization to the mainstream.
And best of all: to use our holographics solution you don't need to wear heavy and uncomfortable headsets. This also means you are still aware of your surroundings while using the holo-devices. You can see the other participants and you can discuss the project you are viewing in a social way.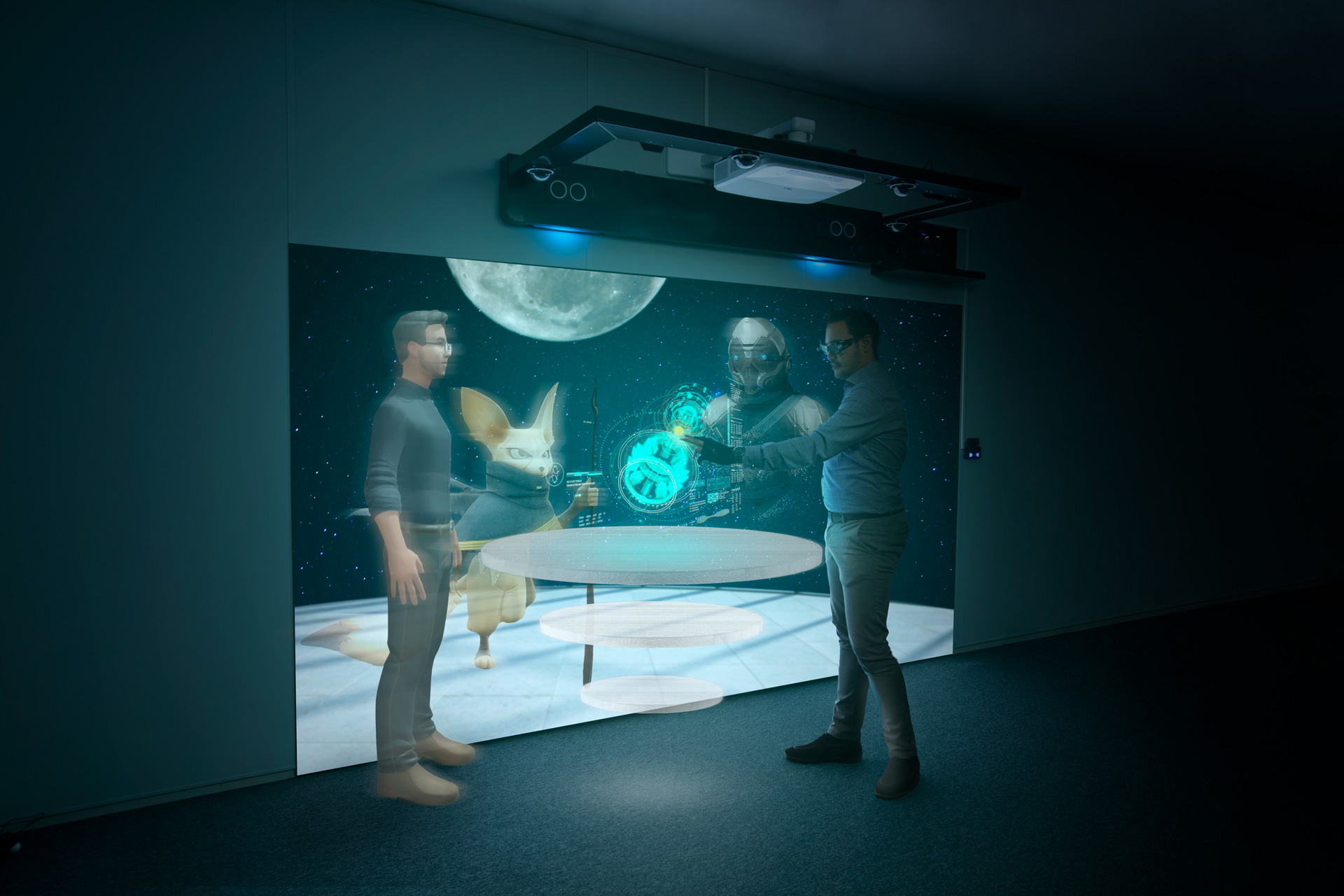 Data is key
Presenting data in 3D usually is a great challenge. It requires enormous amounts of data that need to be processed in real-time. Our solution can take all your existing data and present it in immersive holograms.
Normally, it can take up to 72 hours to download a large amount of data and convert it into a 3D image. With Tekle Holographics, this time has been reduced to 20 minutes, which is 216 times faster and amounts to a time saving of over 99.5%!
The technology can quickly visualize complex multibody dynamics calculations. Think of images that can be used in research on the human body, robotics, and other mechanical systems. Rendering with our application saves a large amount of time, therefore consuming substantially less energy to perform calculations.
This makes it possible, for example, to create a digital twin of a city in full immersive 3D. Given the right data from specific sources like Building Information Management (BIM), Geographic Information Systems (GIS) and Point Cloud Scans, enhanced with data from IoT-sensors, we can build a 3D holographic model of a city that can be viewed from all sides. In addition, any tailor-made user interaction can be developed, depending on the application that this 3D data is required for.
Watch the video
An introduction to Tekle Holographics
Frequently Asked Questions
Yes, we get a lot of questions about holographics in general and our solutions and propositions. The questions below are among the most frequently asked. Your question not in this list? Send it directly to us.
What is/are holographics?
Holographic is a technology that enables a 3D image in free air. Unlike a 3D image on a computer screen (like you see in games or in designer programs) you can literally walk around a holographic image or, if you would like to, straight through it. What holographics is definitely NOT is what you see when you attend a concert with virtual artists (like ABBA). These are just images projected on a stage gauze in 2D.
Is holographic the same as AR or VR?
No definitely not! Although AR and VR are often mentioned in the same context, they are two very different technologies. AR (Augmented Reality) is a technology that enhances normal vision. It 'augments' what you see, by placing an overlay over a normal image. This overlay can give you more information about what you see, or by putting things in it that are not really there (think Pokémon Go). VR (Virtual Reality) shows you a virtual image in 3D but uses a headset to do so. You cannot see anything from your real-life surroundings. Walking around an object could prove very dangerous because you don't know where you are moving in real life.
What is the image quality of a holographic?
The quality of the image depends on the source data. Many images are 4K, requiring 8K input. There are also 8K displays, and these require 16K (or 'Double 8K' as they are sometimes called) input. In general, you can say the output is half the input.
Can we develop our own solution on your platform?
Yes, absolutely. Our platform is open to anyone who wants to develop holographic solutions. You can use Unity or Unreal. However, to develop specifically for our holographic devices, you need to buy or lease one of our devices, since you can only get access to our plugin with the hardware.
Can I see your solutions on other devices?
Yes, our solution is cross-platform. This means the output from our solutions can not only be viewed on our holographic devices but on any other computer platform, including Windows, macOS, iOS, Android, Linux. This is convenient for people who are not the same room to view the holographic. They can still see the image and discuss it with the other participants.
Can I lease or rent your devices?
Yes, you can. At this moment we offer lease and rental through our reseller in the Benelux countries. We are looking for resellers in other countries, so if you are interested, don't hesitate.
Can I see your solutions in action?
Yes, certainly! Visit us in Hilversum, the Netherlands, for a full immersive demo in our Experience Center.